The Simple Joy of the Sandbox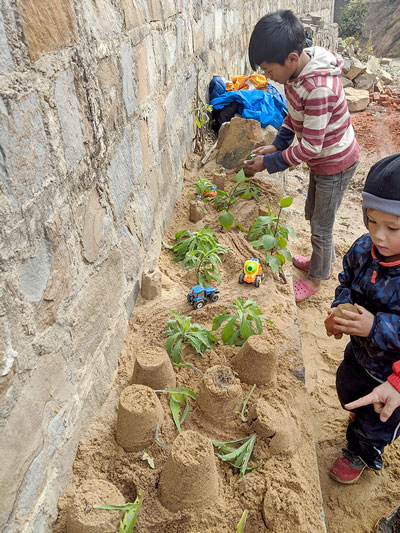 The playground sandbox is a pillar of the childhood experience. While we love getting creative to develop exciting and unique playsets, we also appreciate the simple things in life like a kid's sandbox. At Nature of Early Play, we aim to bring the natural and manmade elements together to create products that are fun and stimulating for all ages. Our sandboxes are compact and affordable but still made with the same attention to quality as the rest of our products. While the concept of a sandbox is simple, its benefits are beyond what you may realize.
Imagination in the Sand
The imaginative child will become the imaginative man or woman most apt to create, to invent, and therefore to foster civilization.
—L. Frank Baum
Castles, racetracks, mud pies, oh my! It is always a wonder to see a child use their imagination in the sandbox. Creative play is important for brain development, and sand is the perfect vessel for kids to get their creative juices flowing. Adults may appreciate that sandboxes keep their children occupied for hours on end, but their brains appreciate the benefits of imaginative play. Sand acts as a blank canvas where anything is possible. When your preschoolers' hands rebuild the Egyptian pyramids, their minds build problem-solving skills. When a few of your toddlers chat about who can dig the biggest ditch, they practice key language and communication skills. The sandbox is the ultimate place to multitask!
The Sandbox and the Senses
If I, deaf, blind, find life rich and interesting, how much more can you gain by the use of your five senses!
—Helen Keller
A multitude of studies have proven the benefits of sensory play for a child's development. The sandbox is one of the best places for your children's senses to be stimulated. Children of all ages benefit from sensory play. For certain children, such as those on the Autism spectrum, sensory play is not only beneficial but crucial to self-regulation. While sand may make you think of the sense of touch, sandboxes are truly a multisensory experience. Let's take a look at how sand stimulates the senses:
Touch: Kids love feeling the unique texture of sand between their fingers and toes. When kids add water, the wet sand provides an entirely different tactile experience.
Sight: Sand is a great way for a picture in a child's mind to come to life. Children can try their hand at visualizing and building all kinds of unique structures.
Hearing: Sand makes its own sounds as they scoop, pour, and dig. Not to mention the noises of their friends around them having fun!
Proprioception/kinesthesia: Aside from the traditional 5 senses, kids' bodies also experience proprioception or kinesthesia, which is the sense of movement and position relative to their surroundings. The uneven surface of a sandbox engages a child's awareness of their body, which is important as they grow and develop coordination and motor skills.
Senses + Imagination + Sand = Educational Fun!
Equipped with his five senses, man explores the universe around him and calls the adventure Science.
—Edwin Powell Hubble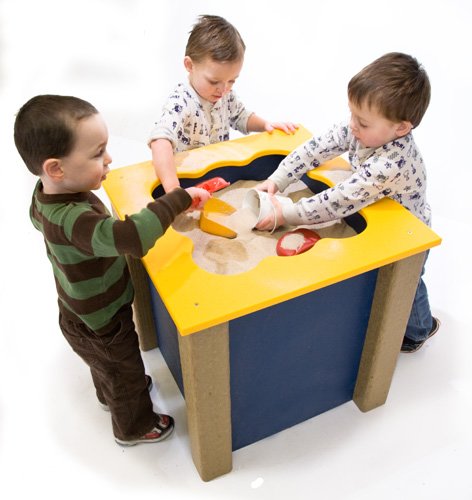 What do you remember most about your childhood learning? When you think back on your years as a youngster, you most likely have few memories of sitting at a desk and listening to your teacher drone on about the water cycle. You probably remember the time you spent outside playing with your friends, having fun and exploring the world. A child's sandbox is the perfect place to stimulate curiosity which leads naturally to learning. The innovators of our time all started out as children. Ingenuity is fostered by the type of free play that occurs in the outdoor sandbox. The great developments of tomorrow stem from active little minds today!
Getting Sandy at Any Age
There's a reason your boss's desk may feature a Japanese sand garden. Even adults recognize the pleasure of working with sand. The love of the sandbox is ageless, and so are its benefits. Sandboxes provide pure entertainment from infancy to elementary school while contributing to certain age-specific milestones along the way:
Toddlers are in a critical period to develop fine and gross motor skills and hand-eye coordination.
Preschoolers are fostering their imaginations with creative play and improving social skills. They are also continuing to strengthen finger and hand muscles.
Elementary students are learning collaboration and language and communication skills. Sand also gives children practice with self-regulation and stress coping skills.
Sand and Sustainability
"The environment is where we all meet; where we all have a mutual interest; it is the one thing all of us share."
—Lady Bird Johnson
At Nature of Early Play, we value our planet and want to do our part to protect it. We live out our commitment to being green, and our RSP Sandboxes are a prime example. Our sandboxes are made from Recycled Structural Plastic™ (RSP) that we produce in-house with our own plastic materials. This means that your sandbox won't rust, splinter, chip or flake like traditional metal or wooden structures. RSP Sandboxes are a small investment now that will pay off for you and our planet for years to come.
Playing Hand-in-Hand in the Sand
"Inclusion is a process of identifying, understanding and breaking down barriers to participation and belonging."
—Early Childhood Forum (2003)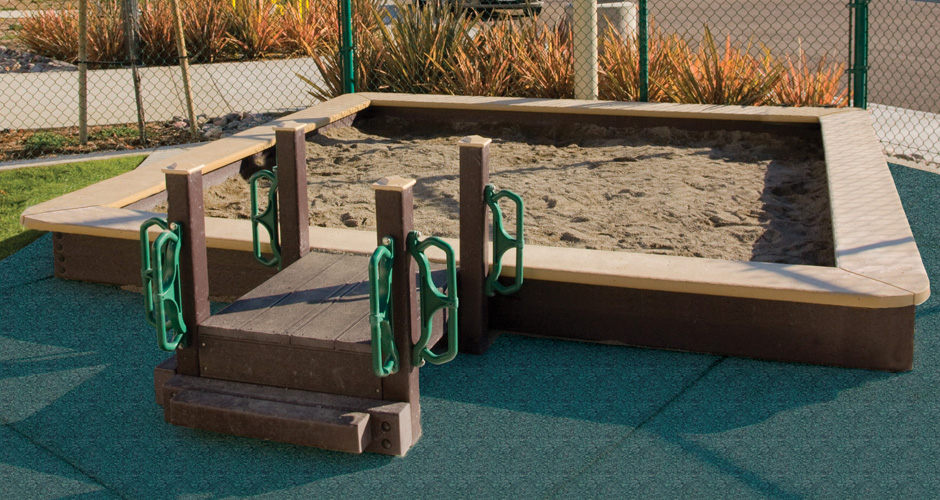 Nature of Early Play cares deeply about making Earth-friendly playground products, but we care even more about your kids who use them. Every child should have the opportunity to sit with their peers in a sandbox playground and dig to their heart's content. For a child with ability differences, life can come with a multitude of challenges. Heading out to play should not be one of them, which is why we provide a line of fully accessible sandboxes. Each size of RSP Sandbox is available with an ADA Transfer Deck with Handles. This platform meets ADA standards for accessibility and provides an area for kids to safely and easily transfer to the sandbox from a wheelchair. When we install your playground, we can also provide safety surfacing to extend the safety and accessibility of your sandbox. It is a true joy to see children of all ages and abilities come together for a day of fun in the sand.
The RSP Sandbox is available in the following models to easily accommodate your daycare, school, park, or other venue:
4FT
4FT with ADA Transfer Deck
6FT
6FT with ADA Transfer Deck
8FT
8FT with ADA Transfer Deck
10FT
10FT with ADA Transfer Deck
12FT
12FT with ADA Transfer Deck
We offer Sandbox Fabric Covers to protect your sandbox from the elements and allow for easy water drainage. If your kids are ready for some serious sand construction work, check out our Sand Digger. It features rounded handles and a bucket loader to take digging to the next level. We also offer variations on the traditional sandbox, such as the Sand Table, Sand Hut or Sandbox Cube. Contact us and get on your way to the basics of childhood play with an RSP Sandbox!