New and Improved Vine House for the Playground
Just when you thought the jungle couldn't get any better, here comes the Vine House—new and improved! Our expert playground designers recently took this classic customer favorite and gave it a foliage face-lift. The result speaks for itself: a gorgeous place for your children to get in touch with nature, get their creative juices flowing, and start to wonder about their world around them. The Vine House is extremely versatile; it functions as an infant crawl tunnel, an exciting clubhouse for preschoolers, or a fantastic addition to an existing trike path. Take a look at the latest upgrades:
What's New in Our Vine House
Added graphics on the side panels
Added standing/headroom for your taller tykes
Engraved vines on corner arches
Mushrooms on Modbox planters
Beveled edges on support strips that make click-clack sounds as kids ride their trikes through
Optional Vine House pad made from 2" thick foam and marine-grade fabric
Bringing the Nature and the Jungle to Your Playground

There's a reason we call our early childhood line of playground products "Nature of Early Play". We love nature as much as we love to play! Our mission is to instill the same love for the environment in the future generation with high-quality nature-based playground equipment. Your childcare center, preschool, church, park, or elementary school may be in the middle of an urban jungle, however with the Vine House, nature comes to you! The Vine House may be a durable outdoor plastic playhouse, but when your kids cast their eyes on the gorgeous arches and leafy graphics, plastic will be the last thing on little minds.
A Tunnel of Imagination for Playground Play

The Vine House provides the perfect venue for your toddlers and preschoolers to escape into the world of make-believe. When they do this, they are engaging in both imaginative play and cooperative social play. Not only is it entertaining to watch little ones develop imaginary scenarios, this type of play boosts brain function and builds valuable communication skills. Children learn to cooperate with one another and communicate their fanciful ideas during imaginative play. At Nature of Early Play, we are experts in understanding the importance of creative play, so we intentionally design equipment like the Vine House to spark your children's imaginations. For instance in kids' world of pretending, the Vine House can function as a fort deep in the woods. While children are creative enough to make a fort out of anything (like the classic couch pillow fort), how much more exciting will it be for them to have a full-fledged fort in the great outdoors!
The possibilities for the Vine House on the playground don't end there. When a group of toddlers get together in this wooded oasis, it will lead instinctively into role-playing activities. Kids can channel their inner Tarzan and imagine being deep in the forest, far from the hustle and bustle of their concrete surroundings. Children can even act as lost explorers attempting to find their way out of the jungle while escaping from the grips of a boa constrictor! A less adventurous sort may pretend to be scientists studying the abundance of wildlife and collaborate with one another about their fascinating findings. The Vine House could also serve as a pretend bridge to a magical land far, far away. Just try to escape from an angry troll on your way across!
Sense the Wild
If you've been imagining you and your children in the wilderness of the Vine House, you may already feel your senses starting to activate! A playhouse that incorporates raised beds for a kid's garden, like the 2 optional ModBox planters, provides a great place for sensory play. Numerous scientific studies have shown the benefits of sensory play for a child's development. Playing in a garden box is an ideal way to stimulate many of your infants' and toddlers' senses all in one spot. Sensory play, especially working with gardens and plants, can not only be beneficial but crucial to self-regulation for children with certain processing disorders. The Vine House is truly a full sensory experience: it has plenty of beautiful details to attract little eyes, the engraved vines and garden boxes are great for a tactile experience, the chatter of social play will perk up little ears, and the scent of plants and the fresh air will get those noses sniffing.
Raising Baby Botanists on the Playground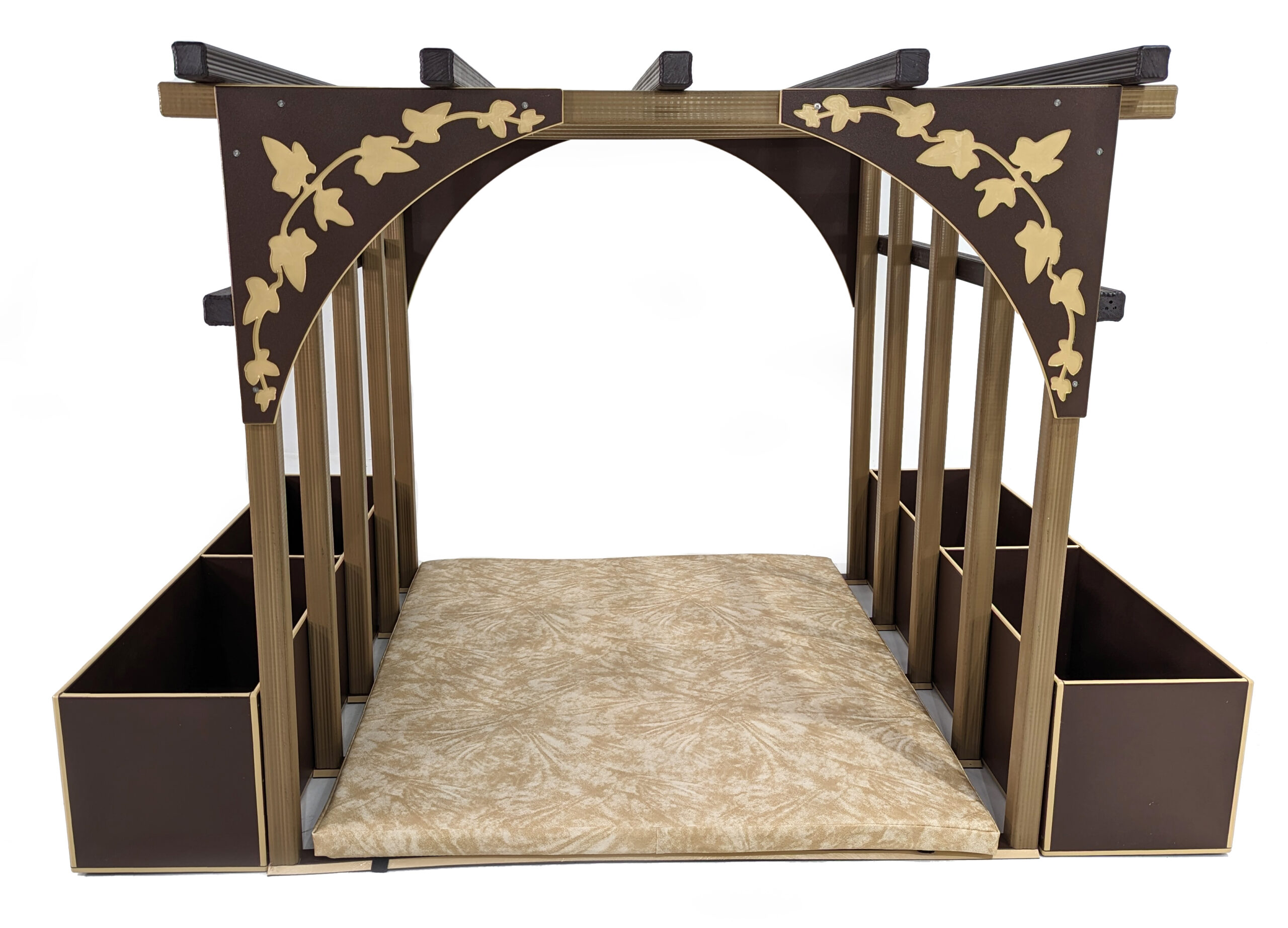 At Nature of Early Play, we know you expect more from your playground equipment than a way to pass time outdoors. You care for your toddlers' and preschoolers' education, and you know the earlier their love for learning begins, the better they will develop in the future. When your little ones step into natural play structures like the Vine House, it will "naturally" lead to curiosity, and curiosity leads to learning! Children will wonder about the plants around them and love watching them grow over time. There's no doubt they will love getting their hands dirty in the ModBox planters and wonder what crawly creatures might be lurking there!
The Playhouse You Know and Love
While we did give our old Vine House a boost, we kept many of the qualities you loved about the original:
The Vine House is made from our earth-friendly Recycled Structural Plastic (RSP) and EcoColor Flat Plastic derived from recycled post-consumer materials. This type of plastic won't chip or rust, is fade-resistant, and lasts much longer than traditional materials.
ADA Accessible—we value inclusive play, and so does Mother Nature!
Suitable for Infants (6-23 months), Toddler (24-36 Months), Preschool (2-5 Years)
At 4ft x 4ft, this is a great choice for smaller spaces
Get Started with the Vine House Today!
Our Vine House is more than a charming playhouse to add to your school, church, park or daycare. Natural outdoor play spaces like the Vine House enhance children's educational development, build a love of nature, aid social development, and serve as a blank canvas for wonderful imaginative play. The added ModBoxes are a fun place for preschoolers to learn outside the classroom walls and get their senses engaged. Don't wait to renovate your lackluster playground with an updated state-of-the-art Vine House from Nature of Early Play!