Budgeting and Paying for a New Early Childhood Playground
Early childhood and preschool playgrounds have a powerful role in nurturing children's physical, emotional, and social development. Budgeting for the cost of playground equipment can be a concern for many preschools, daycares, and non-profit organizations, but Nature of Early Play has creative funding ideas and options you may consider.
As a top early childhood playground equipment supplier, we are passionate about making great playground equipment accessible to children everywhere. We've assembled a list of things to think about when purchasing new commercial playground equipment for your infants and toddlers.
Parts of an Early Childhood Playground Budget
The cost of your project will largely depend on the size of your school, church, or daycare. Price estimates for commercial playgrounds should include equipment, surfacing, and installation costs. A general rule is to budget about $1000 per child, so if you expect 40 kids to use the play area at the same time, you should budget about $40,000.
To come up with an inclusive budget that covers all aspects of the project, consider each of the following:
Commercial Playground Equipment Cost:
A typical daycare play area may include medium or large playground structures or multiple small age-appropriate pieces. Large outdoor playsets can have over 15 play activities and accommodate more than 30 infants and toddlers for group play. A standard playground project will include multi-bay swing sets and additional freestanding play equipment that expand the play area and provide shade.
Shade and Amenities: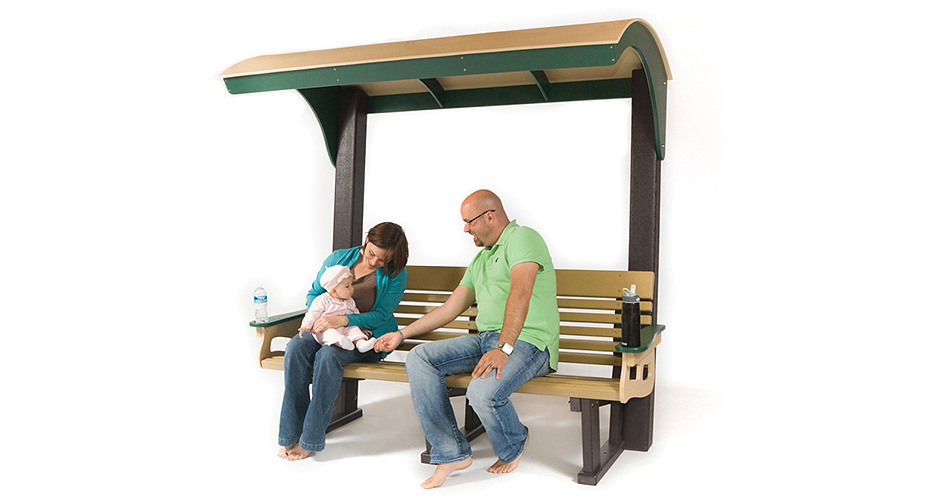 Many standard playground projects include shade structures like our Ergo-Eco Benches with a Roof as an essential part of their site. Also, a well-made playground system isn't complete without additional site amenities like our Flat Benches (available appropriately sized for adults or children), Picnic Tables (available for adults and children as well as ADA Accessible Picnic Table), and Tot Trash cans.
Playground Surfacing: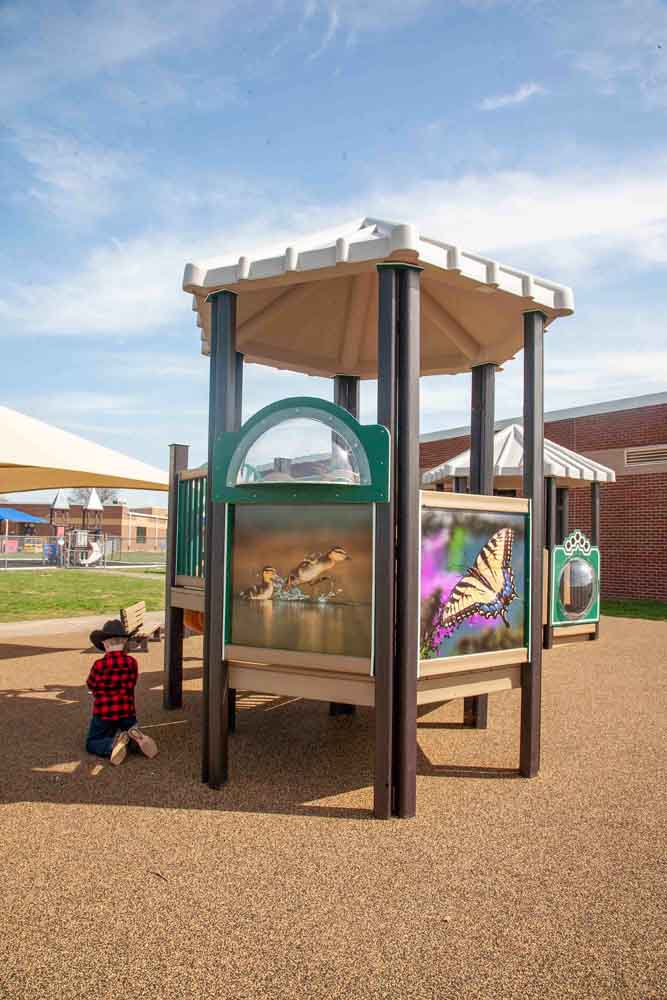 A significant part of the playground cost includes surfacing. However, a safe and long-lasting play surface reduces both injuries and maintenance costs. Upgraded playground surfacing options also require less maintenance, saving money in the long run. Synthetic grass, rubber tiling, and recycled bonded rubber are all great choices. We offer safety surfacing to minimize fall injuries and borders to contain loose surfacing materials. Our safety surface installation package includes a personalized play equipment site plan. This plan helps our professional equipment crew accurately locate and install Borders and surfacing.
Assembly and Playground Installation:
At Nature of Early Play, our dedicated team of certified installers will handle every aspect of the process, from labor to equipment to removing existing equipment. With our expertise in early childhood play, you can trust that the final product will be ADA-compatible and CPSI-approved. You have three options to install playground equipment:
Certified Installations: Request a quote from your local Nature of Early Play sales representative to benefit from the professionalism and experience of our skilled installation crews.
Supervised Installations: Opt for a supervised installation conducted by a Certified Nature of Early Play Installer for added peace of mind.
Customer Installations: If you have a capable construction crew, you can follow Nature of Early Play's installation instructions to tackle the installation yourself. However, we recommend this option only for those experienced in such projects.
Nature of Early Play products are designed with convenience in mind. Depending on the product, it will either arrive fully assembled or require only a small amount of assembly.
Certain products in our catalog are delivered to you fully assembled. This means they are ready to use right out of the box and do not require installation or anchoring. Simply place them in your desired location and they are ready for play.
Many of our products are built to be assembled in place. This means they are sturdy enough to stand alone without needing permanent installation. However, if desired, many of these items can be securely anchored to solid surfaces for added security.
Shipping:
The cost of commercial shipping varies by location. We work with trusted partners to get you the lowest shipping and freight costs possible. Contact us to discuss cost-effective shipping options for your area.
Playground Maintenance:
Although our Recycled Structural Plastic playground equipment is extremely durable and requires minimal maintenance, keep in mind the continuous costs of landscaping and incidentals.
Early Childhood Playground Options
Choosing the right toddler and infant playground equipment requires careful thought. Different playgrounds need specialized equipment, so consider the location, age range, and how many children it will serve at a time.
When it comes to selecting equipment, consider its use and durability. If your playground is at a large daycare or a public park, it will likely see heavy use. That's why our RSP (Recycled Structural Plastic) products are a great choice: rust-proof, chip-proof, rot-proof, and fade-proof.
Inclusivity is also crucial. Commercial play equipment should accommodate children with different abilities, such as those in wheelchairs or with visual or cognitive impairments. Since Nature of Early Play cares about all children, we have many ADA-accessible options to choose from.
As a leading commercial playground company, we understand these considerations and are here to guide you in making the best choices for your site.
Playground Grants for Early Childhood
You can get free money to install commercial outdoor playground equipment through public and private grants. Many government agencies, foundations, nonprofits, and corporations give grants that can be used toward infant playground equipment. These organizations recognize the many benefits of play for toddlers' physical, mental, and social development. Some grants are specifically for early childhood facilities in low-income areas or those needing accessibility updates.
Although Nature of Early Play doesn't offer grants directly, we have worked with many organizations that utilized grants to fund their project. Before applying for a grant, thoroughly research and understand the goals of the funding organization. Write your grant application to fit their goals, and make sure to start early to meet application deadlines and ensure a smoother process.
National, Regional, and Local Government Agencies
You may be able to find funding opportunities for early childhood playground projects through government agencies. Your local government, county, or municipality may have dedicated programs and grants to promote community development and cater to the needs of children. Take advantage of this funding to enhance your community's playgrounds and create an engaging environment for kids. Search the national database for federal grants for parks and playgrounds.
Nonprofit Organizations
Numerous organizations offer grants to daycares and other early childhood facilities for infant and toddler playgrounds. From charitable foundations prioritizing infant development and well-being to nonprofits dedicated to community development, ample resources are available. These organizations allocate funds and provide comprehensive grant listings and guidance on crafting winning applications and proposals.
Other Playground Financing Options
Although there are many grant opportunities out there, you may not find one that meets your needs. Thankfully, there are other options to help you pay for new playground equipment.
Early Childhood Playground Fundraising
If you are looking to raise funds for new park playground equipment or to revamp your old playground, a fundraising event might be just what you need. Start by identifying potential donors in your community, such as local businesses and family foundations. Reach out to them personally, highlighting your organization and its benefits for children in your community.
Once you've got potential donors on board, it's time to engage them in a fun and exciting way. Host parties, launch digital crowdsourcing campaigns, or plan community events that everyone can enjoy.
To spread the word and gain public awareness, use public relations tools like campaign overviews and connect with local media contacts. Create promotional materials that showcase your future playground space. And in this digital age, make use of online assets such as digital fundraisers, social media posts, and email newsletters to keep your donors informed and excited.
Also, don't forget the importance of appreciation! Remember to thank your contributors and keep them updated on your progress. Building strong relationships with your donors is vital for ongoing support.
Purchasing contracts
Purchasing contracts, also known as buying cooperatives, can be a great option for kids' outdoor play equipment. With these contracts, you can access a catalog of options and a streamlined process.
Your organization can tap into the power of numbers with playground buying agreements. By pooling buying power, smaller organizations and non-profits can benefit from the market share of larger consumers.
Some advantages of buying cooperatives:
Benefit from competitive pricing by harnessing the purchasing power of public agencies.
Save valuable time and money as the competitive procurement process has already been accomplished.
Trust in a reliable source for your purchasing needs, as these cooperatives are rigorously and publicly awarded.
Unlock opportunities for schools, municipalities, local and federal agencies, and more.
Financing through our partners at Navitas
Financing is available for projects of any size, big or small. We've partnered with Navitas Lease Corp., a leading commercial financing company, to offer flexible financing options. You'll have a Navitas Certified Financing Professional to guide you through the process and create a financing plan that suits your needs.
Get the perfect play environment for your infants and toddlers with an affordable monthly payment plan from Navitas. No matter your budget, they have customizable plans to help your children develop physically, socially, and mentally. Financing options cover our full range of products, including age-appropriate playgrounds, free-standing play elements, early childhood play products, certified installation services, and safety surfacing options.
Acquiring your playground solutions with Navitas is quick and hassle-free. Follow these five simple steps to get started:
Fill out your Express Credit Application online.
Within two hours, you'll receive a credit decision.
Once your company is approved, they'll send you pre-filled documents for you to sign.
Just email or fax your signed paperwork, and a dedicated Certified Financing Professional will review it and update you. Remember to include your advance payment if needed.
They'll initiate the lease and pay the deposit on your behalf, so your equipment project can begin smoothly.
Playground Phasing
Playground phasing is the perfect solution to customize your space and manage your costs. With Nature of Early Play's modular equipment, you can start with a small segment of your playground plan and spread out the installation over a more manageable time period.
Nature of Early Play makes building a playground in phases effortless. You can continue adding more amenities and reaching your goals as you reach your budgetary milestones.
Make Your Perfect Playground an Affordable Reality
Discover why Nature of Early Play is one of the nation's leading commercial playground companies for early childhood facilities. Explore our wide variety of infant and toddler playground products to help you create the perfect play space for your budget. Our play experts are ready to assist you in designing and planning a new park playground or finding resources to fund and maintain school playground equipment.
We understand the importance of having a safe place for children to play, and we believe it can positively impact your community. If financial constraints are holding you back, there are numerous grant funding and financing options to help you attain affordable commercial playground equipment. Don't hesitate to reach out to us with any questions or concerns. We're here to make the playground planning process seamless, so your infants and toddlers can enjoy the joy of play today!