Reap the Benefits of Early Childhood Gardening with Raised Garden Beds
Gardening isn't just for grown-ups. If you work with toddlers and preschoolers, you know how much they love getting their hands dirty. So they might as well put that dirt to good use! Science has shown the many benefits of gardening in early childhood development. From fine motor skills to increased academic performance and everything in between, having a raised garden bed in your play area will enrich the play experience of your young gardeners in an unbe-leaf-able way!
If you want to cultivate the growth and development of the infants, toddlers, and preschoolers in your care, our Raised Garden Beds are the perfect start. If you're new to children's gardening, let us show you why gardening is great for kids and guide you to set up the perfect play garden for your facility!
Why your toddlers and preschoolers should be digging in the dirt!
Tiny tots aren't exactly known for cleanliness. So you may hesitate to bring more dirt into the mix when dealing with little ones. Let's explore why you shouldn't let a little soil spoil the fun!
Sow the seeds of motor skills and physical activity.
"Gardening requires lots of water—most of it in the form of perspiration." –Lou Erickson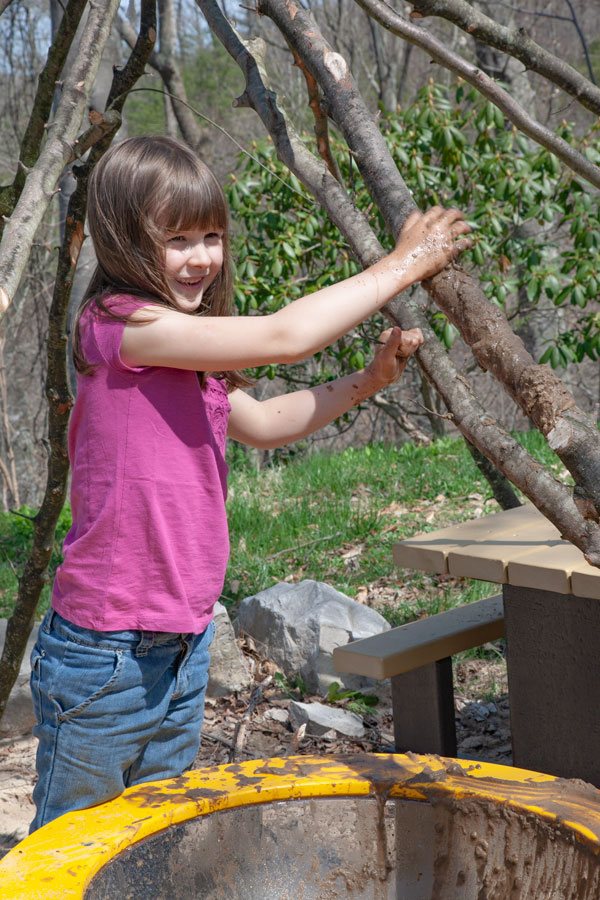 During gardening activities, young children have the opportunity to nurture essential motor skills, including whole-hand and finger grasp (which are necessary for writing), as they work with tools, soil, and water. Tasks such as raking and planting seeds engage their large and fine muscle groups, and carrying supplies improve their balance and coordination. Additionally, spending significant time outdoors, breathing fresh air, and being active is an excellent way for children to obtain essential physical movement. Gardening can be great physical exercise, like lifting and hauling a watering can, digging, and pulling weeds. Who would have thought a playground garden bed would count as exercise equipment?
Sow the seeds of mental health.
"Gardening is cheaper than therapy and you get tomatoes." —Unknown
When life gets thorny, digging in the dirt can be a great way for little ones to relieve stress. Studies have proven the power of the garden for youth mental health. In fact, a study in the Journal of Environmental Psychology found that after spending 5 minutes in a garden, 85% of patients in a children's hospital reported feeling more relaxed, refreshed, and better able to cope with their illness. So incorporate raised beds full of beautiful plants, flowers, or vegetables, and watch your kids calm down before your very eyes!
Sow the seeds of academic performance.
"My garden is my favorite teacher." –Betsy Cañas Garmon
A review of 12 scientific studies on the benefits of school gardens showed that children who were engaged in gardening scored higher on science achievement tests. Research shows that garden programs have a valuable impact on science education, extending to every type of learner, even those with intellectual disabilities. Playground gardens provide a relaxed, non-formal environment that fosters organic and impromptu learning opportunities. Students benefit greatly from the freedom to customize and create their own science lessons with the earth as their teacher. A little trowel and error go a long way for learning!
Sow the seeds of nutrition.
"I can turn dirt into food. What's your superpower?" —Unknown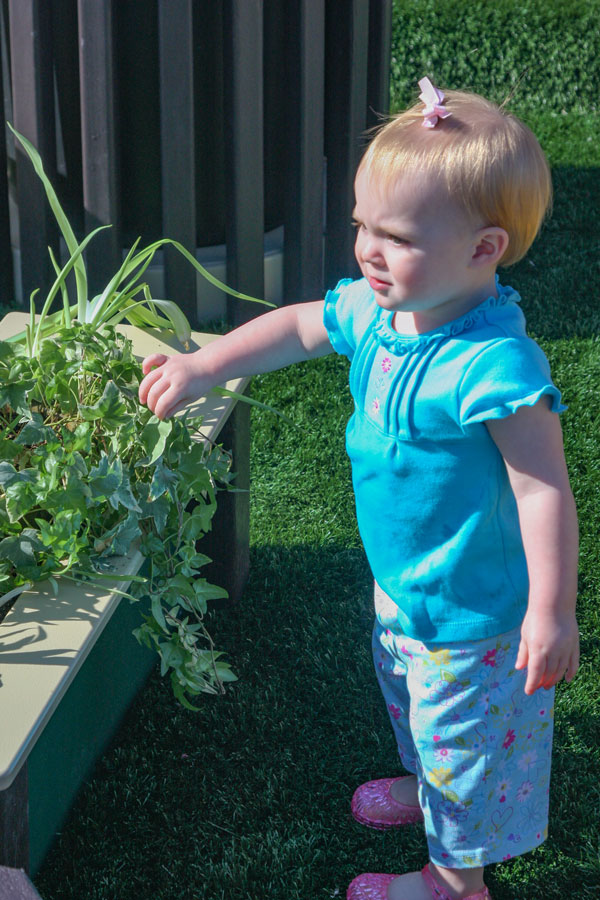 An answer to the age-old question, "How do you get kids to eat their vegetables?" Watch them grow! Growing fruit and vegetables is a great way to teach kids about healthy eating and nutrition. Depending on your climate, raised bed gardens can be used to plant different types of beans, tomatoes, peas, and more. Studies show that children involved in school gardening programs developed an increased snacking preference for fresh fruits and vegetables. Delish!
Sow the love of the earth.
"The world is mud-luscious and puddle-wonderful." —E. E. Cummings
At Nature of Early Play, we're big fans of our planet and love spreading that love to little ones! Teaching children how to garden in a raised garden bed can instill a profound sense of respect and responsibility for the planet. As they learn how to compost food waste for fertilizer and collect rainwater, they begin to understand the interconnectedness of nature and the importance of caring for the environment. Children learn valuable lessons about pollination and other roles in the ecosystem by tending to their plants and observing critters like insects and worms. They also gain insight into topics like pest control, recycling, and pollution. Digging in garden beds will cultivate a deeper appreciation for our planet for the next generation!
Sow the seeds of fun for everyone!
"There are no gardening mistakes, only experiments." –Janet Kilburn Phillips
At the end of the day, the playground is about fun! And what's more fun than getting covered in dirt? Whether you're growing food or flowers, a raised bed brings laughter and joy as your children experience nature with friends. Our Raised Garden Beds and Planters are ADA-accessible, so infants, toddlers, and kids of all ability levels can reap the fruits of their labor. Not to mention, gardening in early childhood is a great way for them to practice communication skills. Friends who get muddy together stay together!
How to get started with your own natural playground design.

Nature is truly the best playground. While we have a wide selection of creative, exhilarating playsets, even we can't beat mother nature! If you want your children to grow an appreciation for the planet while soaking up its natural beauty, natural playground design is a great option. Here are a few tips to get you started:
Choose the right location.
When choosing a playground location, prioritize safety by avoiding areas near traffic or deep water. Make sure the natural playground is in a convenient place that adult caregivers can easily supervise. If you have trees around, opt for a shady area to provide shelter from the sun, but avoid thick brush and heavily wooded spots that may harbor ticks or other unwelcome critters.
In your play area, seek out natural features that you can work into the natural playgrounds' design, such as a tree with climbable roots or large stones and tree stumps to balance on. (If you can't find these readily available, check out our Wood Stepping Stumps or even our Stepping Log Slices or Stepping Stools.) Provide an open area for running and playing if you have space at your preschool, daycare, or park. Don't overlook the simple nature-based materials around you. If your facility is more of a concrete jungle, our Nature of Early Play team will help you choose planters, stepping stumps, and other products to bring nature to you!
Choose the right equipment.
Nature of Early Play offers some great options to add a touch of the woods to your playground. A natural playground can include:
Our products are made from high-quality, durable recycled plastic so your natural playground will cater to years of young gardeners!
Use raised garden beds.
Using a raised bed has particular advantages over planting in the ground. Our Raised Garden Beds have water drainage holes and filter fabric to reduce soil leakage, but those aren't the only perks! According to gardeners.com, raised bed gardens offer:
Longer growing season. Compared to the ground, raised bed soil stays warmer longer and offers drainage for excess water, meaning the growing season can start earlier and last later in the year.
Better soil. It's easy to control the mixture of topsoil and compost in a contained garden bed.
Better results. Intensive planting and vertical supports lead to a more productive garden.
No competition. A defined growing space means weeds and other invasive plants stay away from your garden.
Healthier soil. Since it's not being disturbed by foot traffic, a raised bed offers protection from soil contamination.
Easy access. Elevated garden beds make gardening accessible for children of all abilities, which is why we offer an ADA-accessible height option.
Garden anywhere, any thyme! The controlled environment means you can grow anywhere, regardless of location and soil type.
Protection. A raised garden bed is easy to shield from weather and pests.
Choose the right surfacing.
Safety should always be a priority with any playground. Many safe, natural surfacing options like grass, wood chips, or sand provide the safety your children deserve while maintaining the earthy aesthetic. Our experts at Nature of Early Play can help you choose the perfect surfacing for your playground.
Why Choose Nature of Early Play for Your Raised Garden Bed?
If you're searching for a raised garden bed for your early childhood program, you have many options. So why choose us? Our garden beds are made from Recycled Structural Plastic (RSP), which means they are long-lasting as they won't chip, fade or crack. They are available in two heights to offer an ADA-compatible option, and the color palette is fully customizable to match your current playground equipment. If your Raised Garden Bed needs to be moved on occasion, we offer an optional bottom for easy relocation. In addition, our amazing customer service will guide you during the entire process. No one beets Nature of Early Play when it comes to playground gardening!
Contact us today and start raking in the benefits of the garden for your little ones!