Accessible Playgrounds: Every Child Can Play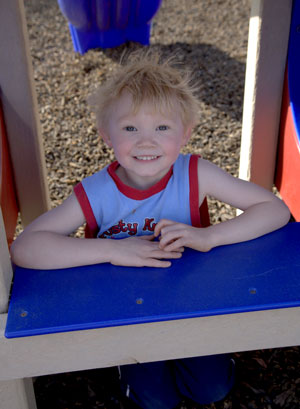 At Nature of Early Play, we believe that every child has the fundamental right to play. We also recognize that each child is unique and has different ability levels which may impact the way they interact with play equipment. Studies have proven that playgrounds benefit physical, mental, and social development that takes place during early childhood. Because play is so important, we offer products that are specifically designed to be accessible and inclusive. Our goal when designing an accessible playground is to meet the child where they are. Nature of Early Play believes that it is our responsibility to adapt our equipment to the child, not the other way around. We honor this commitment by ensuring that we have a wide variety of play equipment that meets and exceeds ADA standards.
ADA Accessible Playground Equipment
The Americans with Disabilities Act (ADA) established specific guidelines that a playground must adhere to in order to be considered "accessible". Many of our products are designed intentionally to be ADA accessible. This means that for each piece of equipment:
There must be an accessible route that permits easy access to the playground for a wheelchair or mobility device
One type of each play component present on the playground must be at ground level
At least half of the elevated play components must be on an accessible route
The surface must be suitable for the use of a wheelchair (such as our smooth Poured-in-Place safety surfacing)
Ramps must have handrails on each side
Seating must offer easy access and transfer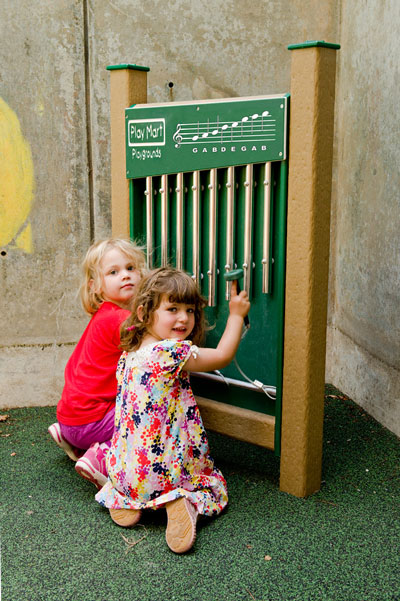 We work hard to make sure an abundance of our products are ADA accessible. For instance, the Cubs and Kittens playground, which is part of our infant line, offers numerous panels at ground level for accessible fun. The interior is wide enough to accommodate mobility devices, so any child can be mesmerized by the sand ramp panel or make a delightful melody on the chime panel. If you're working with preschool kids, Foxy is one of our popular ADA accessible designs. It offers a transfer deck with handles that gives kids of differing abilities easy access to the above-ground fun. Your children will be able to join their friends in the excitement as they cross the Arch Bridge and slide down the Double Slide with ease.
Inclusive Playgrounds
Just because a playground is considered accessible doesn't automatically make it inclusive. One of the best parts of playing on the playground, whether it be at a public park, at daycare, or in a neighbor's backyard, is being around other kids and making new friends. This is why it is so important for our play equipment to be both accessible and inclusive. An inclusive playground is a space where kids of all ability levels can come together and experience the social benefits of being with peers. No child wants to feel left out, so Nature of Early Play makes it a priority to make sure that our accessible products are designed to foster group play. For example, the Combo Steps with handles allow kids with physical handicaps to climb the deck on the Beach Boat. Now these kids can have a sea-faring adventure with an entire crew of friends. This is just one of an infinite number of possible silly scenarios that a group of your children can develop together.
Physical Activity and Gross Motor Development
Early childhood is a time of rapid growth and development, and this remains true across ability levels. Here at Nature of Early Play, we love seeing our playgrounds be a part of this process. Physical activity is fundamental to overall health, yet many children don't get enough on a typical day. Children get natural exercise as they venture outside to the playground, and this counts toward daily recommended activity. Our equipment also fosters the development of gross motor skills that are used by most kids with or without special needs. Gross motor skills involve large movements that engage muscles of the arms, legs, and core. Nearly all of our products have components which utilize these large movements, such as wheels, gears, steps, slides, swings and more. For instance, the gears and steering wheel on the Ducky playground help infants to build upper-body motor skills. Similarly, the Triple Stepper Bridge with picket rails and handles fosters lower-body gross motor skills for your preschoolers. Developing use of major muscle groups is crucial as children of all abilities grow older and more active.
Play for Other Special Needs
As someone who works with kids, you know that many ability differences are not visible from the outside. These differences may not be obvious, but still have a significant effect on the way a child experiences the world around them. Children with diagnoses such as Autism Spectrum Disorder (ASD) have proven benefit from play, especially the social play that happens on the playground. However, each child's individuality means they may benefit more from certain aspects of a playground than others. Some kids may benefit from the sensory stimulation of the Sand Box or Paint Panels while others may appreciate a quiet refuge inside the Kids Kabin. We design our equipment to be as unique as your children and cater to a wide variety of needs.
Our Commitment to All Children
Just as our name suggests, Nature of Early Play is passionate about play! The way that children play is as diverse as the kids themselves, and we want to celebrate that. This means that each child should have access to a safe and stimulating place to let loose and be a kid, regardless of special needs and differing abilities. The playground should be a place where whole families, classes, or neighborhoods can come together and have genuine fun. We work hard to make products that are accessible and inclusive, and we love seeing your kids enjoy the fruits of our labor. Whether your tots wiggle through the Tunnel Maze, practice their tortoise impressions on the Galapagos, or cook up some chaos in the Mud Master Kitchen, you will find that there is something for everyone!